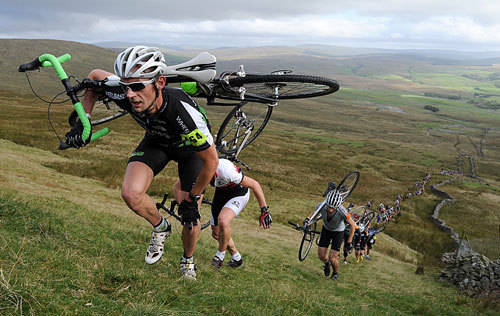 It's a strange year for me – not being able to race. I'd normally be reflecting inward so much at this stage – as I know you lot are starting to do.
It's not as simple as 'did I train enough?' or 'is everything set up perfectly on the bike?', is it? Those are the bits of distraction that mask the real feelings inside – and I don't normally talk about this because masking it gives me some psychological increment over my opposition – so I keep it inside. I'm talking about the huge difference that your mind can make on race day. You've done so much: your mind is going to give you the final 10%.
Just to run through some basic mind-training for your 3 Peaks race on Sunday, be you a contender, going for a PB, a first timer, or whatever.
Don't "save" yourself for Penyghent, or even for Whernside.You have trained hard, and you must eat and drink professionally on race day. Those things WILL get you through. The race is basically up Simon Fell and on to the top of Ingleborough. The rest will be minor changes in position. Go hard. IT IS A RACE.
Don't even dream about wearing arm warmers, leg warmers, knee warmers, hats under your helmets, or gillets unless it is forecast to get very wet or windy. You will be making huge efforts and will get very hot (this year, in particular). You carry muck on arm and leg warmers and that means weight. It is not cold. Cyclocross riders race with short sleeves in 5°C. 'Sportive clothing = sportive attitude. IT IS A RACE.
Do get in the right place at the start line. Go to the 'marker' where you want to finish in your wildest dreams. That road section is crowded, and you'll be 3 or 4 minutes down already at Gill Garth Farm if you sit 250 riders back. You don't want to be 250 riders back if you want a top 100 finish and you will take pace from those around you up Simon Fell – it's natural and hard to avoid. Get further up if you're serious and fight with all your might on the road to stay up. Those minutes get incrementally harder to get back and overtaking ten people is harder than simply having them behind you in the first place. Be considerate, be responsible, be polite, but don't give anything up the annual race to the top of Simon Fell. You give anything there and they keep it for 3 hours after.
Don't enjoy your race. Get your head into it. If you're enjoying it, you're not trying. Hate your race. Enjoy all the bits before and after, and enjoy them to the full.
I wish you all well.